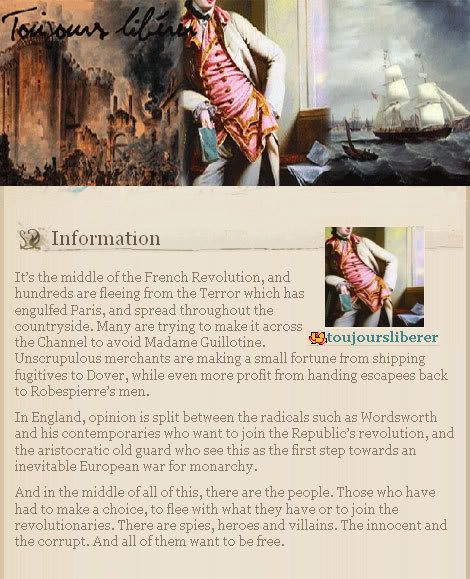 Toujours Libérer is a role-play game based within the French Revolution. It is slash-friendly, focused on the intrigue and passions of the time. Play as any European nationality or an American observer, as a poet, politician or aristocrat. Even a serving maid. Will your character escape France and resettle in England or will they help French aristos to escape? Will they betray their ex-employers or will they risk all to keep them safe?

Toujours Libérer will be opening April 19th. When the community opens officially there will be a chance for characters to interact, alliances to be made and duels to be fought at The Ambassador's Ball

The game is open to players 18 and over, and is an original game set in Revolutionary France and England.

Toujours Libérer Character Wishlist
We would dearly love some revolutionaries, some servants, and some non-French characters. Some floppish poets, soldiery, disillusioned priests, criminals, English Lords, maids, stable boys, scientists, anything along these lines would also be welcome. We have a full quota of mistresses and prostitutes and so will not be excepting any more of these sorts of character.



Any questions can be emailed to: toujoursliberer.rpg@googlemail.com