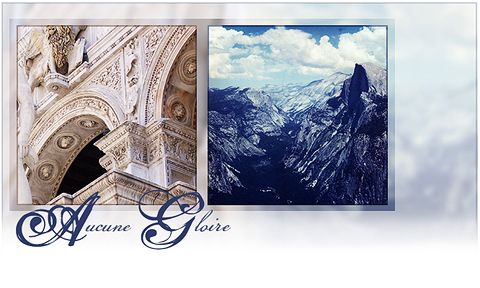 WORLD INFORMATION • TAKEN & AVAILABLE CHARACTERS • APPLICATION • RULES
Aucune Gloire is a multi-fandom RPG set in an original world with an emphasis on excellence in writing and character development. It is also a chance to be a part of creating a diverse and complex world: we hope that Aucune Gloire will become a collaborative effort, and that players and their characters will shape the world around them as the game progresses. In this way not only will the game be innovative, but it will also be challenging and constantly evolving - limited only by what you can imagine.
In allowing players to take on characters from any fandom or create their own original characters, we hope to encourage diversity and therefore the richness of the gaming experience and not limit our players to a single fandom. Your characters might not even be mortal.
Whatever their nature, their time in Aucune Gloire will be an interesting one. The treaty maintained between its two nations for precarious decades is under threat, and with the upheaval that is bound to follow their futures will be cast into doubt, whether peace is maintained or the two countries spiral toward war.
Mods are Spess (
spessartine
) and Aloki (
mocking
).